September 30th is the first-ever National Day for Truth and Reconciliation a federal holiday established to honour residential school survivors and the lives of those who did not return. For Indigenous Peoples and communities, this will serve as a day for remembrance; for others, it should generate conversation, insight learning, and prompt action through strong allyship. We encourage you to wear your orange shirts today to show support for the Indigenous community and to dedicate time to learning about the truth and reflecting on what actions to take in heading towards decolonization and reconciliation.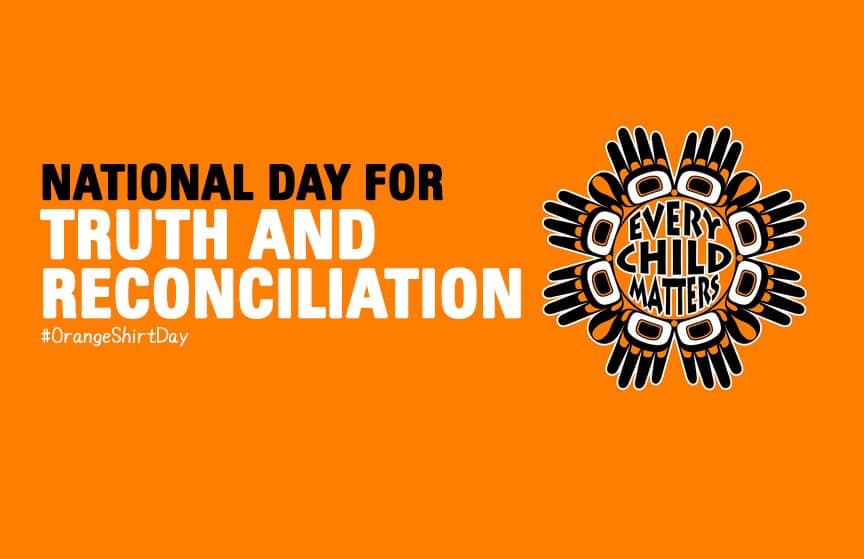 Residential schools were in existence from 1831 until 1996. They were government funded, and church run "schools", established to forcibly assimilate Indigenous children into Euro-Canadian society. The goal of these schools was to break the children's ties to their language, traditions and families. Many children experienced the worst neglect and abuse imaginable at the hands of their teachers and people responsible for running the schools. Several thousand children died while under the care of the government. (resource: www.cedarhilllonghouse.ca)
Orange Shirt Day is a legacy of the St. Joseph Mission residential school commemoration event held in Williams Lake in the spring of 2013. It grew out of Phyllis Webstad's account of losing her shiny new orange shirt on her first day of school at the Mission, and it has become an opportunity to keep the discussion on all aspects of residential schools happening annually.  September 30 was chosen because children are back in school and because it is an opportunity to set the stage for anti-racism and anti-bullying policies for the year. Orange Shirt Day is also an opportunity for First Nations, local governments, schools and community agencies to come together in the spirit of reconciliation and hope for generations of children to come. (resource: www.orangeshirtday.org)
This year, the Association of Neighbourhood Houses of BC, neighbourhood houses, camp and the central office are distributing Xe Xe Smun'eem Orange Shirts to honour residential school survivors and to remember those who did not come home.
Xe Xe Smun'eem – Victoria Orange Shirt Day is an annual event in the city of Victoria to honour and recognize Residential School survivors. The event is held each September 30th in Downtown Victoria.
We chose to support Eddy and Kristin because of their long work getting Orange Shirt Day recognized within the community and as a federal government holiday. They have also worked closely with the neighbourhood houses through our journey of re-learning around Truth & Reconciliation and Decolonization. We believe supporting their work, getting the Xe Xe Smun'eem Orange Shirts into our communities and sharing Phyllis Webstad's story through her two books, will help with our goal of education around Orange Shirt Day.