SVNH Community Forum
17 September 2022 @ 11:00 am

-

2:00 pm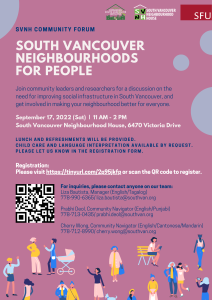 This is an invitation to all staff, participants, community partners, volunteers, and neighbours to hear about the South Vancouver and Marpole research conducted by Simon Fraser University Urban Studies Program and Faculty of Health Sciences, on Sat. September 17th. This is a phenomenal and eye opening presentation that makes you truly reflect and understand about the needs in South Vancouver. Please feel free to share this information.
Blurb from the South Vancouver and Marpole Equity Report (2021):
The vision of the South Vancouver Neighbourhood House (SVNH) is that "Everyone in South Vancouver lives in a healthy and engaged community." Yet, this vision is not a reality for many residents of South Vancouver. There is a diversity of needs for communities living in South Vancouver and these needs often are unmet because of a gap in access to resources, amenities, and services. This research project stemmed from these growing concerns that there were gaps in provision and equitable distribution of resources, that was putting South Vancouver residents at a disadvantage compared to other neighbourhoods in Vancouver. We investigated inequities in neighbourhood amenities and social infrastructure in Killarney, Victoria-Fraserview, Sunset, and Marpole neighbourhoods, compared to the City of Vancouver as a whole. Focusing on these four communities, we explored from the perspectives of neighbourhood house staff and residents what services and amenities are needed by South Vancouver residents, and why. This investigation included an analysis of public investments in social amenities and community-based services, as well as tracking existing social infrastructure in these neighbourhoods, and comparing the level of service available to the current needs of the community.
After the presentation there will be a world café community engagement platform, where people will be engaging in groups to discuss and sharing their experiences. It is about using our voice to shine on the issues that impact you, family & friends, and community at large. There are limited seats, please sign up early.
To register:
https://www.eventbrite.ca/e/south-vancouver-neighbourhoods-for-people-tickets-405709567237
STAY UP TO DATE WITH THE LATEST NEWS: