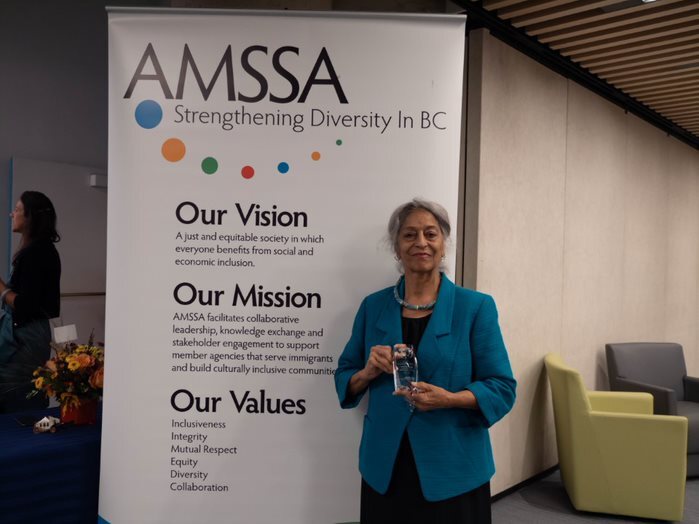 We are excited to share that Mandy Channa, our Seniors Hub Council member, was selected to receive the 2022 AMSSA Service Recognition Volunteer Award!
Apart from Mandy's role on the SV Seniors Hub Council she has for many years been instrumental in developing and leading our weekly Intercultural Wellness program which is funded in part through UW Healthy Aging BC for many years and she is supporting Cedar Cottage with their Seniors Advisory Council and their seniors' programs. Mandy is a community leader who has volunteered for many other like-minded organizations doing similar work to create welcoming, inclusive communities and her long-standing leadership and commitment to empowering immigrants and refugees has been recognized.
From AMSSA's Press Release:
Vancouver, BC, Sept. 23, 2022 – At its 45th Annual General Meeting this year, AMSSA presented its 21st Diversity Awards. The awards recognize its member organizations, their staff, and their volunteers for their innovative contributions to diversity and inclusion in BC. Three awards are given out in two categories: organization and individual. The Riasat Ali Khan Diversity Award is presented to an AMSSA member agency; and two Service Recognition Awards are presented to a staff member and a volunteer.
The Service Recognition Volunteer Award was presented to Manjit (Mandy) Channa from South Vancouver and Cedar Cottage Neighbourhood Houses. As a member of the Seniors Hub Councils of both neighbourhood houses, she was also a program facilitator of the weekly SVNH Intercultural Wellness program, and a volunteer mentor to the weekly South Asian Women's Wellness program volunteers.