With the COVID-19 restriction lifted, we are hoping to provide more in-person support for our information & Referral program.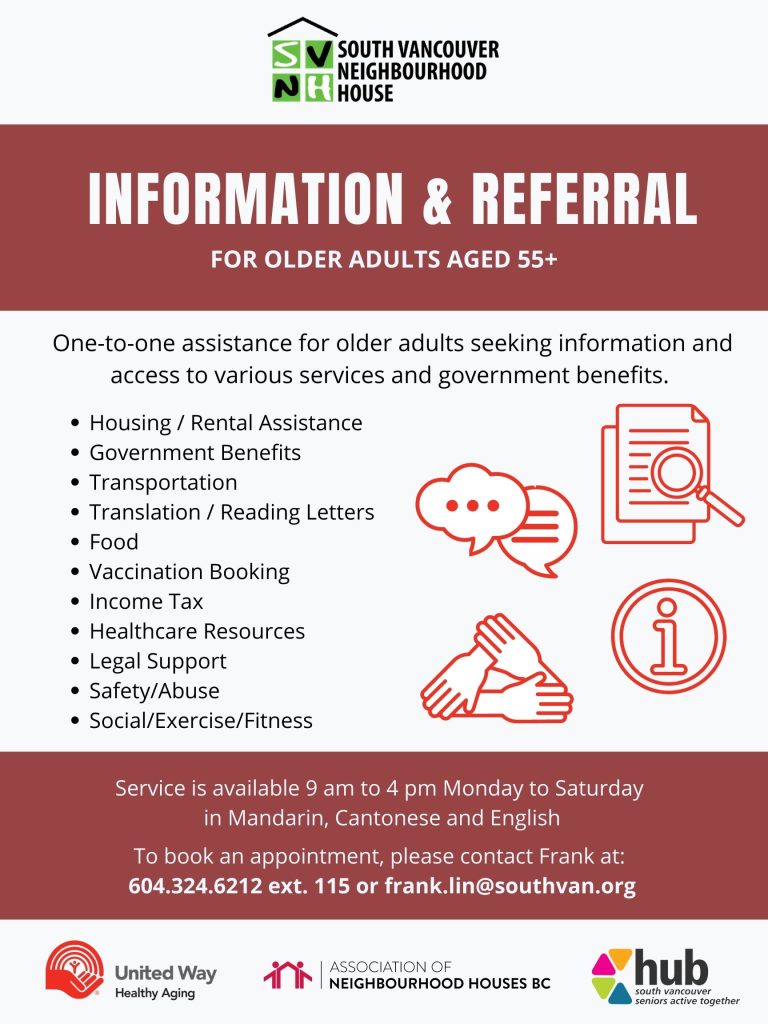 If you are interested in being a volunteer to support the seniors in this program, please contact Alex at alex.hill@southvan.org
Posting is below:
Purpose:
The Information and Referrals (I&R) volunteer plays an important role in helping older adults to:
improve their confidence and ability to use the senior's services in their communities
increase their utilization of community-based/provincial/federal resources and supports
improve their quality of life
increase their sense of social connectedness and empowerment
Position Objectives:
Provide localized information & referrals for older adults in South Vancouver who need one-to-one support to access needed services and government benefits
Connect seniors with activities and programs throughout South Vancouver to enhance their well-being
General responsibilities:
Provide seniors with information by phone, email or in person when in-person services resume (e.g. housing, transportation, finances, legal, income tax, health, food, etc.)
Assist seniors with application forms online, over the telephone, and/or on paper
Assist seniors with the translation of resource information and act as a liaison when appropriate
Refer seniors to other departments within SVNH or to appropriate service providers
Commit to a minimum of three hours each month
Maintain confidentiality and security of all client information
Attend required orientation session, 12-hour I&R volunteer resource training and other volunteer training when appropriate
Abide by SVNH's Infectious Disease Safety Plan
Qualifications and skills:
Existing knowledge or willingness to learn about provincial and federal benefits available to seniors
Basic computer skills
Comfortable working with seniors
Excellent communication skills
Access to wifi, computer, and/or phone
A strong attention to detail
Patient and friendly; be able to treat all seniors with dignity and respect
Proven ability to work interdependently in a collaborative environment with colleagues
Fluency in another language commonly spoken in South Vancouver is an asset
Screening practices:
Be 18 years of age or older
Ability to provide two (non-family) references
Abide by the confidentiality agreement around client information
Respect and abide by SVNH's policies, procedures and codes of conduct and ethics
Must undergo a Criminal Record Check through the South Vancouver Neighbourhood House (no charge)
Able to commit to a minimum of 1 year.
Benefits:
Gain experience working with older adults
Gain experience working in the non-profit
Free training and skills development
Make a positive impact for older adults in the community
Chance to build relationships and make new friends
Scheduling: Flexible
Supervision: Navigation and Peer Support Coordinator