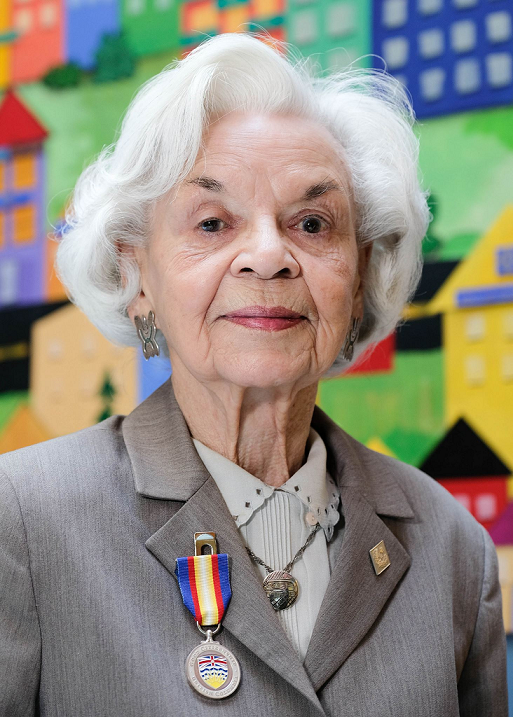 It is with a great deal of sadness that the South Vancouver Seniors Hub Council shares the news of the passing of Lorna Gibbs. Lorna was a long time and well-known resident of Vancouver and over the years she took on many leadership roles in our community. She was the Past President of the SVNH Community Board, Past Chair of the South Vancouver Seniors Network which was the impetus for the South Vancouver Seniors Hub, Past Chair of the Hub Council and founding member and Chair of the recently dissolved Southeast Vancouver Seniors Arts and Culture Centre Society just to name a few. In 2017 she was a recipient of BC's Medal of Good Citizenship and SVNH held a special luncheon in her honour as we all wanted to express our appreciation of her generosity, service, acts of selflessness and contributions to our neighbourhoods.
Through her work on a variety of seniors' programs, services, and issues, she changed the lives of many seniors and inspired many more to contribute to their community. For over 20 years she was one of a driving force of community leaders who were worked tirelessly behind the scenes to advocate for a Seniors Centre. In 2018, hundreds attended the opening of the Killarney Seniors Centre – many of us will remember with great fondness, the big smile she had on her face that day and hundreds of smiling and cheering seniors who acknowledged her and her team of volunteers for their efforts and this accomplishment.
Lorna epitomized the kindness, compassion, and values of the SVNH and shared them with those connected to our House and in the community, she did so with an open hand and an open heart. Her grace and humanity will be missed by those who knew her, and her legacy felt by those who didn't.
https://vancouversunandprovince.remembering.ca/obituary/lorna-gibbs-1082884632
We encourage all those who loved her to express your condolences and to share your memories of this truly remarkable woman who left her mark on our community – she will be missed❤️
South Vancouver Seniors Hub Council